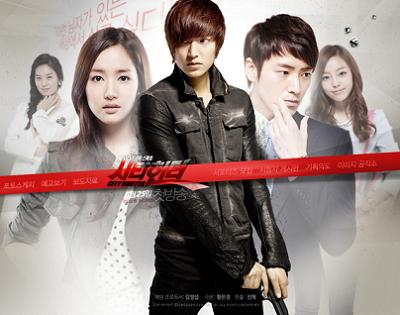 Title
: 시티헌터 / City Hunter
Genre
: Romance, Action
Episodes
: 20
Broadcast network
: SBS
Broadcast period
: 2011-May-25 to 2011-July-28
Air time
: Wednesday & Thursday 21:55
Main Cast:
Lee Min-ho as Lee Yun-Seong

Park Min-young as Kim Na-na

Lee Jun-hyeok as Kim Young-Ju

Hwang Seon-hi as Jin Su-hi

Gu Ha-ra as Choi Da-hye
Synopsis:
ĎCity Hunterí is an original script based on the world-famous novel by Japanís Tsukasa Hojo. Since it became public that Korea would be the first remake of this story into a drama, ĎCity Hunterí has been receiving worldwide attention. ĎCity Hunterí has switched the setting from Tokyo 1980 to Seoul 2011, and according to the original story structure, the protagonist becomes a city hunter and his character develops while resolving gratifying cases.
Lee Yun-seong (Lee Min-ho) works at the Blue Houseís National Communication Network Team and received his Ph.D at M.I.T. Kim Na-na (Park Min-young), a former judo athlete who works as a bodyguard for the Presidentís residence, the Blue House. Kim Na-na will eventually be involved in a love triangle with Lee Yun-seong and prosecutor Lee Jun-hyeok (Kim Young Joo). The drama also marks Gu Ha-raís acting debut and she will play the role of the Presidentís daughter, Choi Da-hye.
Gallery:

Lee Min-ho

Park Min-young

Lee Jun-hyeok

Hwang Seon-hi

Gu Ha-ra

kyoshi

FOUNDER




Joined

: 2008-01-09


Posts

: 1010


Keju

: 597




kyoshi

FOUNDER




Joined

: 2008-01-09


Posts

: 1010


Keju

: 597



---
Permissions in this forum:
You
cannot
reply to topics in this forum