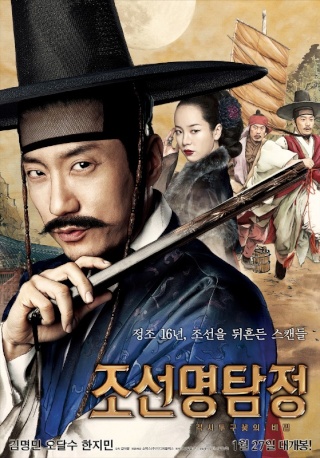 POSTER:
Title
: 조선명탐정 : 각시투구꽃의 비밀 / Joseon Myungtamjung : Gakshituku Ggotui Biil
Writer
: Lee Chun-hyeong, Lee Nam-kyu
Producer
: Kim-Jo Gang-su, Lee Seon-mi, Choi Jae-won, Choi Jong-ho, Jo Yun-jin
Cinematographer
: Jang Nam-cheol
Release Date
: Janaury 27, 2011
Runtime
: 115min.
Distributor
: Showbox/Mediaplex
Language
: Korean
Country
: South Korea
Synopsis
:
Itís the 16th year of King Jeong-joís rule, a series of murders break out in the capital of Joseon. King suspects that the murders are a part of some high officialsí conspiracy to cover up an embezzlement scandal. He commissions a famous detective K to solve the case and find out who is behind. Kim Jinís investigation is off to a shaky start as he gets attacked by assassins from day one. He narrowly escapes death with the help of a dog seller, Seo Pil. Together, they head out to Jeokseong to find Wolfsbane - the flower that holds key to the case. In Jeokseong, they meet a beautiful business magnate, Han who seems to hold far more secrets than she first appears.
Based on the mystery novel "Yulnyumoonui Bimil" ("열녀문의 비밀") by Kim Tak-Hwan. Novel was first published on December 24, 2007.

Filming began September 2, 2010 in Danyang, South Korea.

During filming actor Kim Myung-Min broke a rib on November 1, 2010. Filming was not delayed and Kim Myung-Min continued filming.
GALLERY:
DOWNLOAD:

You have to post a comment to download


kyoshi

FOUNDER




Joined

: 2008-01-09


Posts

: 1010


Keju

: 597



REVIEW:
Baru aja selesai nonton sejam yang lalu. Ada yang ngebandingin ini film sama Sherlock Holmes. Ceritanya standar menurutku, kejutan-kejutan ala film detective pun ga begitu nampak hingga akhir. Akting pemainnya juga biasa aja (karena ga ada adegan yang emosional). Adegan laga-nya jelek, sangat kurang menurutku, mungkin karena bukan pure film action. Sedangkan unsur komedinya lumayan menghibur lah, walaupun ga sesuai sama ekspektasiku (tadinya kukira bakal pure comedy). Overall film ini cukup menghibur, layak ditonton di saat film-film cengeng banyak bermunculan
Rating: 4/5

kyoshi

FOUNDER




Joined

: 2008-01-09


Posts

: 1010


Keju

: 597



---
Permissions in this forum:
You
cannot
reply to topics in this forum